Morgan Freeman's step-granddaughter E'Dena Hines was reportedly stabbed to death by her boyfriend on Sunday, and now the cops have cuffed him for murder!  Read what witnesses say happened inside and see the tribute Morgan posted on Facebook...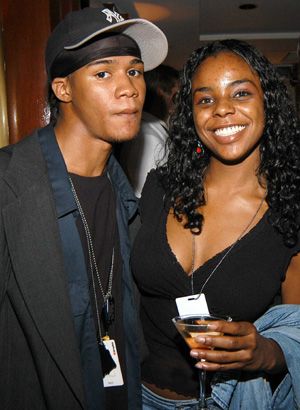 Sunday morning at 3 a.m., 33-year-old E'Dena Hines, the step-granddaughter of famed actor Morgan Freeman, was reportedly stabbed to death in New York City by her live-in boyfriend, whom witness say was in the midst of a psychotic breakdown.
Lamar Davenport, shown above, has been charged with second-degree murder in the death of E'Dena, and details surrounding the case are shocking.  George Hudacko, who witnessed the early morning attack from his apartment window in the Washington Heights area of Manhattan,  said he heard Lamar scream "Get out, devils! I cast you out, devils! In the name of Jesus Christ, I cast you out!" as he repeatedly stabbed E'Dena in the chest with a hunting knife.
"The girl was making a lot of noise, screaming. I called 911 — I was begging them to come," said George.
According to a police source, officers who arrived on the scene say Lamar continued his attack even as E'Dena laid lifeless on the sidewalk.  One cop said, he "was still making a stabbing motion with his arm, but he had nothing in his fist — the knife was jutting out of her chest."
Following his arrest, Lamar was taken to New York-Presbyterian Hospital for a psychological evaluation and has been charged with murder.  Meanwhile, EMS rushed E'Dena to Harlem Hospital where she was pronounced dead.
E'Dena, whose grandmother Jeanette Adair Bradshaw was Morgan's first wife, first made headlines in 2012 after Morgan had to squash reports that they were lovers. We now know that was not the case.
Before her life was tragically cut short, E'Dena followed in Morgan's footsteps, nailing several great roles.  She was a graduate of NYU's Graduate Acting Program and played Beneatha in "A Raisin in the Sun" on Broadway in 2012.  And in April 2015, she co-starred in the indie film "Landing Up.'  The film's director, Daniel Tenenbaum, told the NY Post, "She was an amazing, incredible, loving human being."
In a statement to PEOPLE, Mr. Freeman reflected on his step-granddaughter's talent, saying,
"The world will never know her artistry and talent, and how much she had to offer."
"Her friends and family were fortunate enough to have known what she meant as a person. Her star will continue to shine bright in our hearts, thoughts and prayers.

"May she rest in peace."
He also posted a message on Facebook. 
R.I.P. E'Dena Hines...
Photos via Getty/PatrickMcMullan/Lamar's Facebook