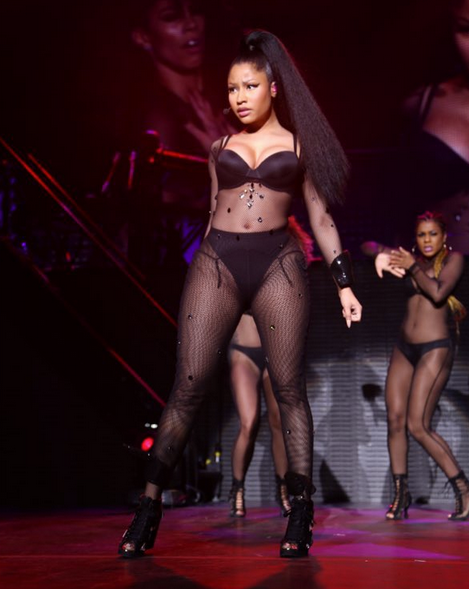 Last night, Nicki Minaj's concert in the Bay Area went totatlly left after a brawl broke out resulting in people getting pepper sprayed! See how Nicki helped diffuse the situation inside…
Nicki Minaj's "Pinkprint Tour" rolled into Concord, CA last night. And what started as a night of fun with her fans, turned into an all out brawl, resulting in some fans getting pepper sprayed.
Here's what we know…
The "Anaconda" raptress hit the stage to perform her lively set before the sold out crowd. Towards the end of the show, a violent brawl broke out in the audience. We're not exactly sure why these chicks were fighting, but they were throwing down in the Concord Pavilion after concertgoers began pushing and shoving. So, authorities swooped in and sprayed mace to break up the multiple fights.
Once the 32-year-old raptress realized they were fighting, she stopped the music and called up one of the young ladies to the stage who was maced. And it was caught on video:
Nicki brings a fan on stage after getting maced #ThePinkprintTOURpic.twitter.com/fi9ZjwmoMm

— Nicki Minaj News (@NickiReigns) August 15, 2015
Poor girl... B*tches got maced. Nicki had to help shit was so crazy. Wow pic.twitter.com/otSnTyEJwu

— Patrick (@pmbenson33) August 15, 2015
Yikes! Afterwards, Nicki hit up her Instagram and said,"Sold out show in the Bay Area last night. They were more than turnT... Let's just say that. Lol. Can't wait to see u guys again. #ThePinkprintTOUR"
Glad no one was critically injured. TMZ reports a 22-year-old male was arrested for assaulting a security guard. No word on any other arrests at this time.
Back at the hotel....
The Young Money raptress put on a private, but not so private, show for her boyfriend Meek Mill. In a video clip posted to her Instagram account, Nicki is seen twerking in a thong on the bed as Meek lays behind her. She captioned, "@meekmill I love how we spend our days off. Cheers to everyone living their lives and not being pressed."
Soon after the Philly native tweeted, "Got her in here twerking to #dexosama #niceview" These two…
After her twerk session….
The twosome rented out a movie theater to check out Straight Outta Compton with their homies. Nicki said, "When u & bae rent out the entire theatre to watch #StraightOutttaCompton with the tea. so proud of Ice Cube. Can't wait to reveal our lil secret."
Hmm…so Nicki, who's starring in Barbershop 3, has a secret project with Ice Cube? Guess we will find out what it is soon enough.
Tonight, Nicki and co. will hit the stage at the Pepsi Live at Rogers Arena in Vancouver. Let's hope they know how to act.
Photo: Nicki's IG