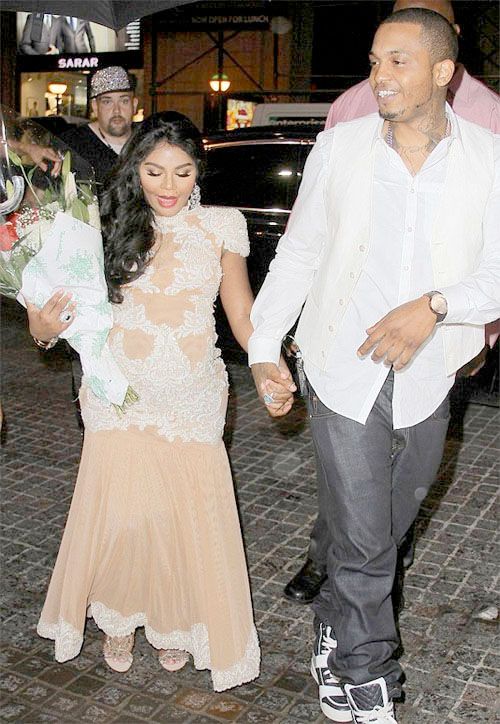 From break ups to make ups….Lil Kim and her daughter's father Mr. Papers are back together after a messy public breakup, and they want everyone to know it. Read their open letters to each other and check out Robin Thicke's new video "Back Together" featuring Nicki Minaj inside….
Lil Kim and her daughter's father Mr. Papers have kissed and made up. And their relationship status went from bad to worse after they seemingly called it quits last year.
You'll recall, Mr. Papers hit below the belt posting up a picture of Kim's well-known enemy Nicki Minaj on Instagram admiring the scantily clad photo. Ish was ready to hit the fan when the twosome ended up in court to duke it out in a nasty custody battle over their daughter Royal Reign. Mr. Papers was livid, making claims that Kimmy was keeping their daughter away from him.
But now, those things are of the past and they have let bygones be bygones in an effort to save their family.
Yesterday, Mr. Papers wrote a long heartfelt apology to his queen, gushing over the Brooklyn raptress and owning up to the mistakes he made during their relationship. He posted up a picture of himself holding their baby girl (when she was an infant) with the caption: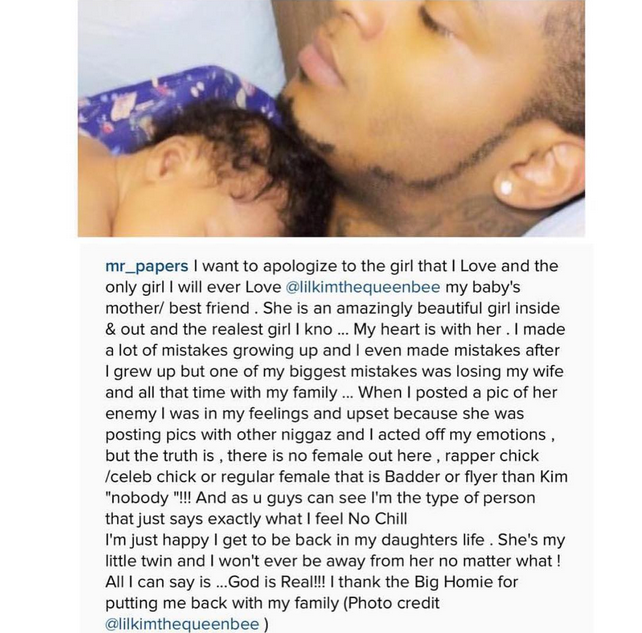 I want to apologize to the girl that I Love and the only girl I will ever Love @lilkimthequeenbee my baby's mother/ best friend . She is an amazingly beautiful girl inside & out and the realest girl I kno ... My heart is with her . I made a lot of mistakes growing up and I even made mistakes after I grew up but one of my biggest mistakes was losing my wife and all that time with my family ... When I posted a pic of her enemy I was in my feelings and upset because she was posting pics with other niggaz and I acted off my emotions , but the truth is , there is no female out here , rapper chick /celeb chick or regular female that is Badder or flyer than Kim "nobody "!!! And as u guys can see I'm the type of person that just says exactly what I feel No Chill
I'm just happy I get to be back in my daughters life . She's my little twin and I won't ever be away from her no matter what !
All I can say is ...God is Real!!! I thank the Big Homie for putting me back with my family (Photo credit @lilkimthequeenbee )
 
Following his public apology, the femcee took to her Instagram to share how happy she is to have her family back and that she has forgiven him. She wrote:
Look at God ! .... As mad as I am and was .. How can I be mad at this smh .. This is very sweet @mr_papers .... We all make mistakes none of us are perfect , but it's when we can acknowledge our mistakes is when we begin to grow into the beautiful men and women God intended for us to be
I love @mr_papers and always have. we have been thru hell and heaven 2gether and have made a beautiful baby girl , we were on our way to being a very happy family but the devil has tried to intervene many of times even to the point of bringing us into court to a nasty custody battle but what the devil meant for bad God turned into good
The things that he's done have been a hard pill to swallow and I kno it is for a lot of Kim supporters ......I still want to put some of royal 's dirty poop diapers in his suit case without him knowing
But this mr papers is some beautiful grown man shit. this is the side I always wanted ppl to see
At the end of the day it's all about Princess Royal Reign
And now we can move forward to being a happy healthy family and my daughter will have her Mommy and Daddy in her life
God gets the victory!!!
Thank you #teamkim and the #killerbeehive for always being there through good and rough times. After weeks of going to court...Now it's back to the money!!! On my way to the studio team kim.
Well good for them...and even better for little Royal (who turned 1 in June).
Speaking of Nicki Minaj...
The bootylicious raptress is featured in Robin Thicke's new video for his single "Back Together." No, this track isn't about his ex-wife Paula Patton (thankfully). If you haven't heard, Robin is currently dating model April Love Geary.
While chopping it up recently with "GMA" co-host Robin Roberts about the new single, the Grammy nominated singer explained,
"I didn't write this song, so I can't take credit for the meaning. It's more about the theme of getting yourself back together with love and partnership."
The party track, produced byMax Martin and Savan Kotecha, features the 38-year-old singer throwing a pool party in a Miami mansion with a bevy of chicks strutting around in bikinis. The "Anaconda" raptress reunites with the R&B crooner (remember their "Shakin' It For Daddy" track?) with her usual sexualized moves and racy lyrics. Check it above.
The single will appear on Robin's eighth studio album set to debut this fall, the follow-up to his Paula LP. We feelin' it?
 
Photo: Splash/Kim's IG