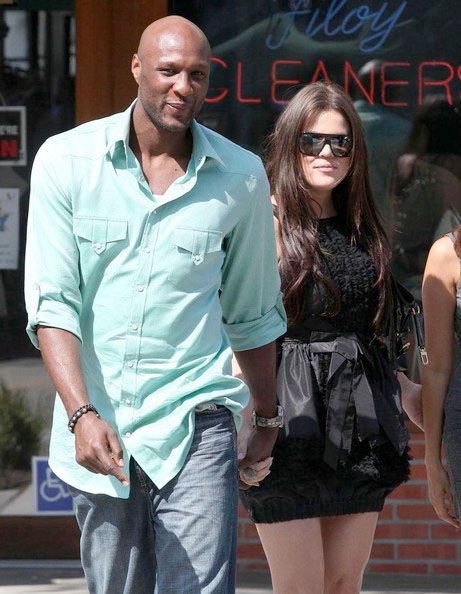 If this isn't some crazy ish here! Lamar Odom ambushed Khloe Kardashian in Beverly Hills this morning, verbally assaulting her and demanding she speak with him. And there's a pic to prove it. Get it all inside….
Talk about crazy! Or PR stunt?
Lamar Odom must have had some things he seriously needed to get off his chest early this morning. So much so, he planned an alleged "attack" on his estranged wife Khloe Kardashian to try and settle the score.
Around 6:45 AM this morning, the former NBA baller popped up outside SoulCycle in Beverly Hills as the 31-year-old reality star made her way inside for an early morning workout. As he raged towards her, witnesses on the scene tells TMZ he began yelling and screaming at her, demanding she talk to him. And oddly enough, it was captured in a picture. You can check it out here.
As he got close to his estranged wife, he went to grab her arm and Khloe was heard screaming, "Get off of me, get off of me. Stop. Stop." At this point, things looked as if they were about to get UGLY, so an eyewitness asked Khloe if she need them to call the police. Then Lamar allegedly said, "You're not going to call the cops on Lamar Odom." OH?
The Kardashian chick kept asking Lamar how he even knew she would be there in which he never really answered. Hmmm…
Hmm…you think he wants her back? Especially since she's been parading around with her new rumored NBA baller boo…James Harden. They did just sign off on their divorce, which took a year and some change to do. Maybe he wants to work it out? Or is THIS Khloe's new storyline for her reality show?
Photo: FameFlynet