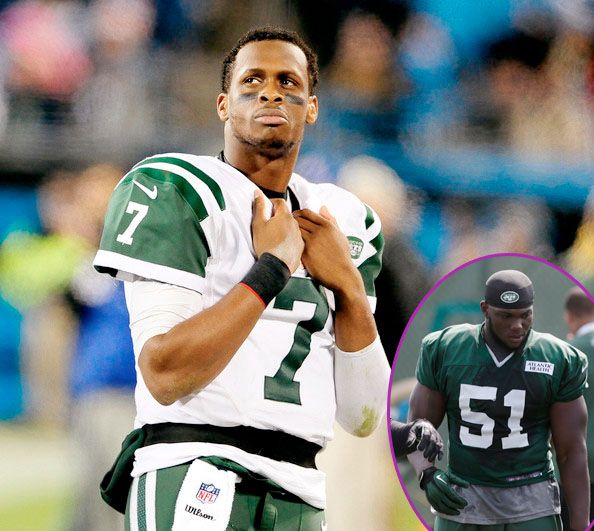 After learning New York Jets quarterback Geno Smith was "sucker punched" by his teammate IK Enemkpali and left with a broke jaw, many were left wondering…what the hell happened? Well, now we know. Find out inside….
They say money is the root of all evil. And that seems to be the case with two New York Jets ballers…well one current player and one former player.
Yesterday, we told you the bizarre news that Jets linebacker Ikemefuna "IK" Enemkpali punched quarterback Geno Smith in the face during an altercation in the locker room before training camp. The result? Geno suffered TWO fractures in his jaw, he will have to undergo surgery and will be OUT for 6-10 weeks. Meanwhile, IK is no longer a part of the Jets family as he was released from the team after this incident.
So what the hell happened? Here's what we found out.
According to ESPN insider Adam Schefter, the guys got into an argument over MONEY. $600 to be exact. Apparently, Geno had agreed to make an appearance at IK's charity football camp last month. So, IK purchased a plane ticket to fly him out to Texas. Unfortunately, Geno was unable to attend due to the death of a friend, so IK wanted his money back for the plane ticket.  That's when ish hit the fan in the locker room.
Here are the full deets from the insider:
At the heart of the dispute between former Jets LB IK Enemkpali and quarterback Geno Smith is $600 that Enemkpali believed Smith owed him, per league sources. Enemkpali purchased a plane ticket for Smith to attend his July 11 football camp at Pfugerville High School in Pfugerville, Texas. However, days before the camp, a person close to Smith was killed in a motorcycle accident in Miami and Smith did not attend Enemkpali's camp, per sources. After Smith did not attend, Enemkpali demanded that the Jets' quarterback refund him the $600 he allegedly used to purchase a plane ticket. Smith told Enemkpali he would reimburse him the money, but he did not. Enkempali confronted Smith today about the money and the confrontation ended in a punch and broken jaw.
Yikes! All of this for a $600 plane ticket.
After IK was released from the team yesterday, he issued an apology. He said,
"I apologize to the Jets organization, coaches, teammates and fans," Enemkpali said in a statement his agent sent to Bleacher Report. "Geno and I let our frustration get the best of us, but I should have just walked away from the situation. I deeply regret and apologize for my actions. It was never my intention to harm anyone. I appreciate the opportunity I had with the Jets."
While we definitely feel IK could have handled the situation better than he did, we can understand games are not to be played when it comes to owing someone their money. IK was a 2014 round 6 draft pick signing a 4-year 2.3 million contract with an average salary of about $574,670 year. So he maybe even tighter about his coin (even though everyone should be) than other players.  Alternatively, Geno signed a 4-year 5 million contract with an average salary of about $1,254,901 a year.
Why didn't Geno just cough up the dough? And why couldn't IK just keep his cool? Now, one is without a job and the other is headed for surgery.
And that's not all...
The former Jets baller could be facing criminal charges:
Former Jets player IK Enemkpali could face criminal charges for punching QB Geno Smith. pic.twitter.com/VzCR6LXXKS

— SportsCenter (@SportsCenter) August 12, 2015
Sighs...that punch clearly wasn't worth it.
Photos: Getty/NYJets.com